What our customers are saying
The Ultra Force Machine is definitely the best load machine in the business. I've worked with competitor's products and the Ultra Force is a step above. Its easy to use interface along with the time it saves on set-up and at the racetrack is unparalleled. I would recommend the Ultra Force to Anyone who is looking for a load machine without a doubt.
One of the biggest things that the ultra force has done for my program is it helps me to make a much more calculated bump stop change by being able to overlay the graphs which, in turn, saves me a ton of track time.
Also, the overall speed of the machine by being able to punch my center to center measurements in and let the machine run through my full travel all by itself in a matter of seconds it's literally cut my time of setting bump stops in half.
Another nice feature is being able to store all the data instead of having stacks of binders I can just go back in the file and it shows me every piece of information as far as travel and bump loads from earlier races in the season.
The new Auto Ultra force machine has given me transparency to hidden data within my setup.  The technology of the machine has given me the tools to make improvements to the balance of my setup and the speed of the machine has given me the agility to make those improvements in a hurry.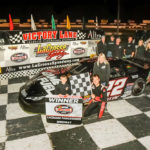 The ultra force is easily the best suspension machine on the market. I have used many different machines and the ultra force allows me to make faster and more accurate changes to the cars I work on. If you don't have an ultra force machine, you are behind.
Since buying this Ultra Force machine we have gotten more precise numbers on our bump stops and load numbers. This machine has made it a lot easier to scale and setup times have been decreased compared to traditional methods due to being more accurate! The ultraforce is an awesome machine and much safer compared to other spring unloaders. I highly recommend this product!
The Wehrs Ultra Force Machine is extremely user-friendly it has all the tools within the software to do virtually any type of test you'll ever need when it comes to spring smashing, pull bar rating, and bump stop tuning. Not to mention it follows suit with all Wehrs products and has the nicest machined pieces and is a well built and engineered machine